1 jaar geleden · 4 min. leestijd · visibility 0 ·
How can you ever be successful in Business when there are so many things you need to do.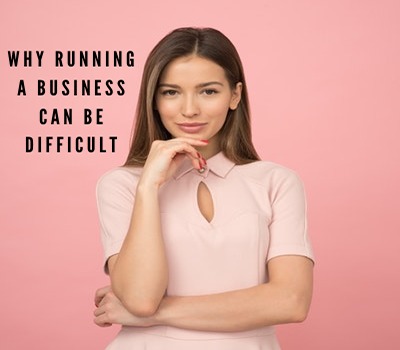 Being a woman in business has 2 sides.
It is great to be free and making your own decisions and grow in any way which suits you best. To work with whoever you choose to work with. To work whenever you want and wherever you want and to create and sell whatever you want to sell.
It can also be very demanding, overwhelming and frustrating. It seems that there is too much to do in your business and then also at home.

And how can you change the part of overwhelm whilst running your business?
Nowadays many women quit their corporate job and start their own business. This is GREAT!
They will soon find out it is not as easy as they thought it would be.
You are always good at something when you start your business. Most likely this "something" is your service or product. That is great. But that does not mean you will get heaps clients who are knocking on your door to buy it.
Having your own business you can compare with having 10 different jobs, or even more, at the same time and that is a whole different game.
Let us have a look at some of the skills the business owner has to master (our outsource in some occasions)
You have to promote yourself.

And this is something which is not an easy skill. Women do not like to brag. (See my study How Women do Business). Knowing how to promote yourself involves to position yourself and also to know exactly who your ideal clients are. Having business cards and a website is not enough. This is only the beginning.

You have to brand yourself.

This is about you and who you want to communicate to. What logo do you choose which fonts do you choose what colors which kind of design?

You have to develop products or services.

Often Women know what they want to offer and they often don't know what they are VERY good at.

You have to be able to sell.

When you have little confidence this is not an easy task and outsourcing sales or training yourself in sales skills is a good idea. The most important thing here is, you really need to stretch yourself and get out of your comfort zone.

They get overwhelmed with too many tasks.

Yes, there are a lot of things you need to do when you have your own business. And I know for a fact that over 60 % of the women never make a plan. (See study How Women do Business) And this is something which really helps. A plan gives direction and creates focus.
Big, medium and small goals, they all can be added to the plan. I would suggest only to add big and medium goals. The small tasks you can add in your weekly calendar.

You have to take care of the admin work


Answering emails, phone-calls, creating systems, invoicing, sending out offers all tasks that need to be done, and maybe you are used to having a department who did this for you?

You have to take care of your marketing

Offline or online Advertising, social media marketing, FB advertising, SEO (Search engine optimization of your website) There are soo many different ways to market your business. Every business is different and every business owner is different. Not every marketing strategy will work for you.

You have to be the manager

Whether you have management experience or not, you will have to start to manage your team. This can be the bookkeeper, the web-developer, the designer, the assistant. And when you have none of those people working for you you have to manage yourself. There is now no-one you need to report to except yourself. So how do you keep yourself accountable?

You need to create strategic alliances

To grow your business you need to work with partnerships or strategic alliances, where you collaborate. This can be in various fields, for example sponsoring, referring new clients, knowledge exchange and more.

You have to be a great decision-maker.

Making decisions even when you have no idea what to do and how it will work out is a skill which is very much needed in entrepreneurship. Sometimes there is not enough time to find out everything you want to know, Sometimes it is a great opportunity. There will be many occasions where you have to make decisions. You will dot this every day when you are in business. And often you cannot go to someone to seek advice. You are supposed to be the one who knows.

And many other things I did not mention here.

And here are only 10 things you need to be good at when you start or run your own business.
So when we now go back to the question we asked you in the beginning:
" How can you ever be successful in Business when there are so many things you need to do".
There are some great solutions to get better in all these "jobs".
Just do it and learn with trial and error, is one solution which most business owners in particular men, choose.
Invest in training to learn each and every skill is another solution.
The best way though is to seek a mentor who has a lot of experience with all these fields because she has been out there long enough. That long that there are no more secrets to doing business.
You can contact me at all times.


When you want to know more about Tineke Rensen?
Tineke Rensen is in business for 29 years. She built an international Outdoor and Survival business from scratch and sold this after 22 years.
Tineke was a national whitewater kayaking champion.
She now is one of the most all-round business accelerators you can find. There are very few topics she cannot help you within your business. Many people find it hard to believe when they hear this. How much do you think you know about a topic if you live it day and night for 28 years?
Tineke works with female business owners to grow to their full business potential. She uses her own system the "Blueprint for a Successful Business Makeover". She is a women's business coach.
Download the free report of the thoughrow study: How Women do Business"  
https://www.powerfulbusinessacademy.com/e-book/
Or you can buy my book. Maximum Business Growth for Women
http://www.MaximumBusinessGrowthForWomen.com
You can also have a look at my website http://www.PowerfulBusinessAcademy.com
Or apply for a free next level consultation of half an hour. 
https://www.powerfulbusinessacademy.com/free-next-level-consultation/
If you want to have Tineke Rensen Speaking at one of your business events check her Speaker Biography
https://powerfulbusinessacademy.com/wp-content/uploads/2020/01/Tineke-Rensen-as-a-Speaker.pdf
If you want to connect with businesswomen from all over the world you can become a member of our Powerful Business Women's Facebook Group
https://www.facebook.com/groups/272704086741137/
If you want to watch business videos with Tineke Rensen you can like the Powerful Business Academy Youtube Channel
https://www.youtube.com/channel/UC30PXhRDQkoaWUmX_V2QBHw
Tineke is the CEO of Powerful Business Academy, which is situated in The Netherlands.
email               info@powerfulbusinessacdemy.com
phone              +31(0)15-7851592
U heeft geen groepen die aan uw zoekopdracht voldoen