6 maanden geleden · 1 min. leestijd · visibility 0 ·
Why Female Entrepreneurs Should NOT Buy Niche Programs When They Want To Scale Their Business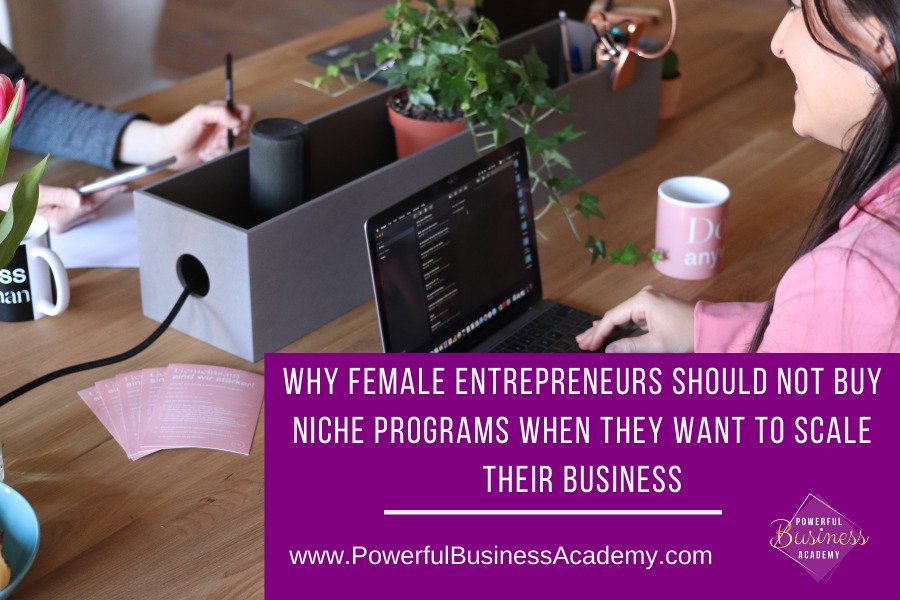 Most marketing gurus preach niching down as a way to promote yourself and your brand. The usual advice normally sounds like this "find your niche, niche down, don't go wide, focus on serving one aspect of the market.
It's why you see most buyers of knowledge and expertise, or businesswomen wanting to scale their business run towards niche trainings, niche support, and niche products.
And it's understandable as it only makes sense as they say to "go an inch wide and a mile deep" when attempting to market your business.
However, as a business coach for women and one interested in helping female entrepreneurs find their bearing, I'll say this, the entire gospel of focusing on niching programs alone in order to grow your business is just plain bad advice.
According to edX on Business Management, core business skills such as business planning, strategy, finance, sales, and marketing, are the backbone of a  successful business.
Why Should You Steer Clear Niche Programs?
I'll usually tell the female entrepreneurs I coach that niche programs are really NOT what they need, to thrive.
My many years of coaching and working closely with female entrepreneurs have taught me that growing and upscaling a business usually involves you working on multiple areas in your business simultaneously. It is never one thing because they are all interconnected with one another.
Like the human body, your business thrives when the other parts are doing the same. So, are niche programs bad? Of course not! But their focus is usually on one topic.
A niche program can be on:
How to
Speak
Create your online course
Write your book
Position yourself
Blog
Write compelling online copy
Do email marketing, etc.
No, while all these are great, none of these things alone can guarantee the success of your business. Business success is never about changing just one thing. It is always a combination of various factors. An experienced business coach for women will tell you this!
You don't NEED an online course when you know nothing about lead generation or getting traffic.
You don't NEED to know how to speak when you don't know who your ideal audience is.
Also, You don't NEED a book when you have no-one to sell it to.
Read More About Why Female Entrepreneurs Should NOT Buy Niche Programs
U heeft geen groepen die aan uw zoekopdracht voldoen