Overcoming Challenges: Strategies for Growth in the Cancer Biopsy Market by 2030
In the realm of healthcare, the global cancer biopsy market is experiencing rapid expansion, driven by the growing prevalence of cancer worldwide. With an incessant rise in cancer cases, the demand for biopsies to diagnose and stage cancer has surged. Leveraging advanced diagnostic technologies, such as next-gen sequencing, molecular diagnostic technologies, and liquid biopsy, healthcare professionals have significantly improved the efficiency and accuracy of cancer biopsies. These advancements have facilitated early detection and enabled precise diagnosis, treatment selection, and personalized patient care, fostering robust growth across the market.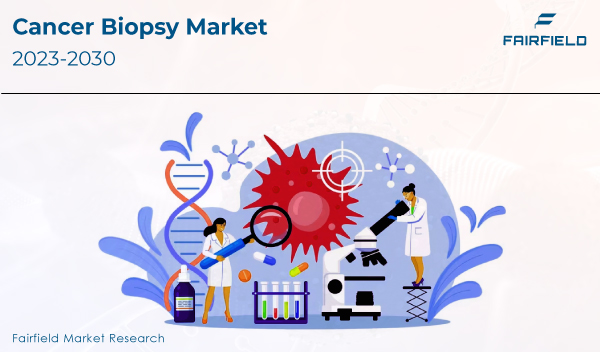 Growth Drivers
Surge in Elderly Population and Rise in Cancer Incidence
One of the primary drivers behind the growth of the cancer biopsy market is the rising geriatric population coupled with the growing prevalence of cancer. Cancer is more commonly diagnosed in older individuals, and as the older population continues to grow at a rapid pace globally, the demand for biopsies becomes increasingly vital. Biopsies play a pivotal role in diagnosing cancer and comprehending its characteristics, such as stage, tumor type, and molecular profile, enabling healthcare professionals to devise effective treatment strategies.
Rapid Technological Advancements in Diagnosis
Over the past decade, significant technological advancements in cancer diagnostics have resulted in the emergence of more efficient and accurate biopsy techniques. Minimally invasive procedures like liquid biopsies have gained significant prominence in the field. Liquid biopsies involve the analysis of circulating tumor DNA or other cancer biomarkers in blood samples, allowing for the detection and monitoring of cancer with improved precision. Such advancements in diagnosis have led to an upsurge in the demand for biopsies, and as a result, the global cancer biopsy market is projected to reach a state of sound maturity in the upcoming years.
Overview of Key Segments
Liquid Biopsy Gains Prominence with Growing Boom Around Personalized Treatment
The global cancer biopsy market can be segmented into tissue and liquid biopsies based on the type of biopsy. In recent years, physicians have shown a preference for liquid biopsies, primarily due to their ability to penetrate both primary and distant tumor sites. Moreover, liquid biopsies enable healthcare professionals to deliver customized treatment to patients. Physicians can modify therapy based on the patient's response to treatment by repeatedly sampling tumor markers, thereby enhancing treatment outcomes and overall patient care.
Breast Cancer Represents the Leading Application Category
Among the various types of cancers, the incidence of breast cancer has been rising at an alarming rate. Individuals at risk of breast cancer undergo microscopic analysis of breast tissue to obtain a diagnosis and determine the stage and characterization of the tumor. This has led to an increased demand for surgical or needle biopsies to extract tissue for microscopic analysis. Consequently, breast cancer is expected to dominate the global cancer biopsy market in terms of application.
Growth Opportunities Across Regions
North America Remains Lucrative, Asia Pacific Shows Promising Growth Potential
North America is anticipated to maintain its market lead in the cancer biopsy industry over the forecast period. The United States, in particular, is expected to emerge as a key regional player due to its advanced healthcare infrastructure. Manufacturers in the region are actively investing in product innovation to ensure the rapid application of diagnostic advancements.
On the other hand, Asia Pacific is projected to witness the highest growth rate throughout the forecast period. The region has experienced a surge in cancer cases, which has led to increased awareness about cancer diagnosis among individuals. Consequently, the demand for cancer biopsies is expected to rise, opening up new opportunities for market players in the Asia Pacific region.
Prominent Market Players
Several prominent market players are driving growth and innovation in the global cancer biopsy market. These include Myriad Genetics Inc., Exact Sciences Corporation, Guardant Health Inc., Bio-Rad Laboratories Inc., Agena Bioscience Inc., Personal Genome Diagnostics Inc., Exosome Diagnostics Inc., ANGLE Plc., and F. Hoffmann-La Roche Ltd. These industry participants are actively engaging in strategic collaborations and product innovations to gain a competitive edge and contribute to the overall growth of the market.
Gezondheid
Misschien bent u geïnteresseerd in deze banen
---

Fortive

Eindhoven, Nederland

Voltijd

Als Quality Assuance (Kwaliteitswaarborgings) ingenieur zul je leiding geven aan dagelijkse prioriteitsstelling, resource-toewijzing en probleemoplossende activiteiten. Je zult ook klantretouren analy ...

---

Alvéole

Amsterdam, Nederland

Voltijd

Business Dev.Representative for the Netherlands | Dutch speaking · remote · Amsterdam, North Holland, Netherlands . · full-time . August 9, 2023 Description · ***English version will folllow*** ...

---

Red Panda Works

Amsterdam, Nederland

Voltijd

Wat ga je doen? · Bij nieuwe klanten stel je de eerste maand het Growth Plan op. In dit plan zet jij de grote lijnen uit, maakt een planning en besluit welke experts je betrekt bij dit project. · Na h ...