1 jaar geleden · 3 min. leestijd · ~100 ·
How To Set Goals And Targets As A Female Entrepreneur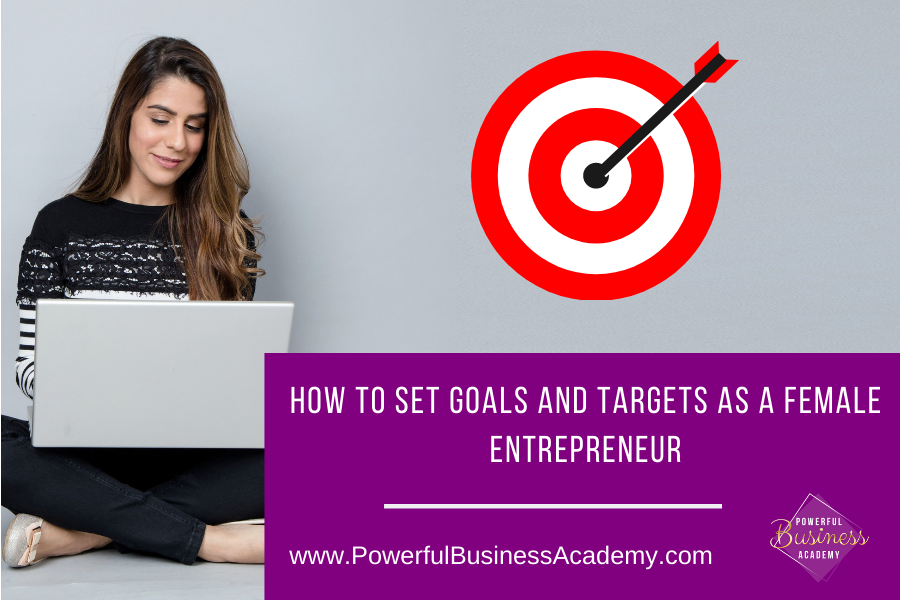 Female entrepreneurs need to set goals and targets if they want to achieve growth. Every year, thousands of people with new and promising ideas think about starting their own business. However, most of those fail in the initial years of the business. The reason for their failure is the misconception that having a good business idea is more than enough to start their successful business. In reality, setting proper goals and targets, and taking the right actions to achieve them, are what keeps a business going.
Many business coaches for female entrepreneurs find that one of the main reasons why most female entrepreneurs fail to sustain and scale up the business is that they set their goals either too big or too small. When a target or goal is too big, it can be scary. When that is the case, most people avoid it or delay it for too long, or never accomplish it at all. On the other hand, if a target is too small, we tend to be uninspired because we are simply not challenged enough.
What Characteristics Should Your Targets Have?
Most business coaches for female entrepreneurs agree that goal-setting is one of the keys to a successful business scale-up strategy. To come up with good goals and targets, there are a few things you should consider:  
The target must be exciting. When you set your goals, think about what excites you and inspires you. When a target you set motivates you and you look forward to achieving it, it lights a fire within you to work harder to reach it. However, If the target is too strict and boring, you might feel limited by it and you end up lacking the drive to complete it.
The target must be challenging. According to a 3II1b.png"nofollow ugc" target="_blank" href="https://psycnet.apa.org/record/1981-27276-001">study, 90% of people perform better with relevant and challenging goals. Your targets and goals should be fueled by ambition. They must not be too easy that you don't feel any accomplishment even after having achieved them. They should also not be too challenging that you feel discouraged to even start. In other words, your goals must be aspirational yet realistic.
Most female entrepreneurs don't make it a priority to set goals and targets because they tend to constantly worry about how they would be able to achieve them. As a business coach for women, I assure you that the only thing you need to know is what your first step will be. The rest of the steps will become apparent to you after you have set out to work on your targets.
When Setting a Target, The Only Important Thing Is The Reason Why
If you want to set the perfect goal for yourself and your business, you need to know why. When clients consult me about goal-setting and business scaling strategy, as a  business coach for female entrepreneurs, I usually ask:
Why do you want to achieve this goal?
This is because the reason must be significant and valuable enough that you will work against any obstacle in your way to achieve it. After all, when you desire something, you will continue to work hard to get it. This way, failure will not be an option for you.
If you feel like all this is overwhelming you, don't think that there is anything more you can do. I write another 3II1b.png"nofollow" target="_blank" href="https://powerfulbusinessacademy.com/how-to-get-rid-of-overwhelm-as-a-female-entrepreneur/">blog post about how you can avoid burnout as a female entrepreneur and focus on scaling up the business.
Different Ways Of Goal-Setting For Female Entrepreneurs
At some point as a female entrepreneur, especially when you're scaling a small business, you must have heard of the traditional way of setting goals: the  SMART way. This is an effective technique of determining what goals to set to maximize your chance of achieving them, and eventually to scaling a business for growth. SMART goals should be:
 S- specific
M- measurable
A- achievable
R- realistic
T- timely
To sum it up, a target should be specific and detailed, as opposed to general and vague. There should be concrete and measurable criteria for the progress and results you achieve. And the goals should be reasonable, attainable, and set to a schedule or a timeline.  
As a business coach for female entrepreneurs, I highly encourage this method. But other than this, I also recommend that you visualize your goals. In your mind, think about what you want to achieve, and go into detail when you do. Use all your senses. What does success look like to you? You can even create a mood board to help you feel your goals and make them tangible.
3II1b.png"nofollow" target="_blank" href="https://powerfulbusinessacademy.com/how-to-set-goals-and-targets-as-a-female-entrepreneur/">Read more about How To Set Goals And Targets
Misschien bent u geïnteresseerd in deze banen
Gevonden in: Talent NL - 3 dagen geleden

---

"A reliable and competent adviser for entrepreneurs" · As a Dutch speaking SME adviser, you serve SME entrepreneurs in your area across the board. You are the face of ING in the local business market, and together with your team you do everything possible to further strengthe ...

Gevonden in: beBee S2 NL - 1 dag geleden

---

KNAW (Nederlandse Akademie van Wetenschappen)

Amsterdam

Voltijd

Utrecht · Max uren per week: 38,00 · Max salaris: €7.362,00 · Duur overeenkomst: Senior - Permanent | Junior - Fixed · Solliciteer t/m: 15-11-2022 · Function of the candidate group leader · You will lead a research group at the Hubrecht Institute. You will run your group with s ...

Gevonden in: Recruit.net NL Premium - 1 dag geleden

---

Tommy Hilfiger is one of the worlds leading designer lifestyle brands, internationally recognized for celebrating the essence of classic American cool style. Founded in 1985, Tommy Hilfiger delivers premium styling, quality and value to consumers worldwide with a breadth of colle ...