3 jaar geleden · 1 min. leestijd · visibility ~100 ·
Food of our future
We invite you to our very exciting event Food of our Future!
There is a growing awareness to create sustainable food, both from our planet as our own body's point of view. This evening, two female entrepreneurs will share how they changed (part of) this industry for the better.
We are happy to announce that The New Farm will be hosting our event. This location hosts multiple entrepreneurs in this industry and will stimulate our thoughts on the food of our future.
Our first speaker will be Ana Santiago, founder and Chief Executive Buddy of Cool Bear. Her company is committed to 100% child obesity free world. Their product range started with lemonade, which is 100% natural, without sugar or other artificial sweeteners, and is being sold in most supermarkets and bio-stores in the Netherlands.
From her role within Koppert Cress, our second speaker Natasja van der Lely became one of the initiators of VERS+. This initiative directs the value chain towards personalized food. How can nutrition improve the performance of top athletes? Only one week before its official launch, Natasja will tell us about the challenging journey on creating this ambitious dream.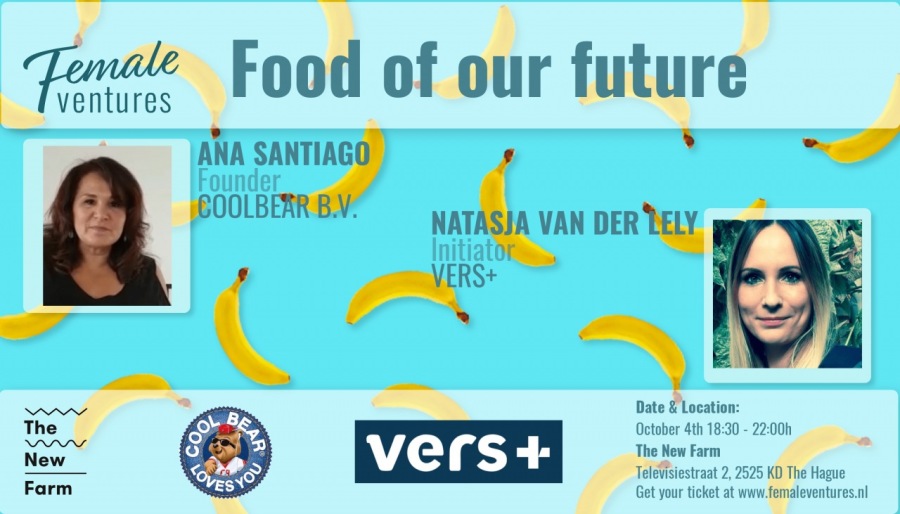 Before, in between, and after the keynotes there will be great moments to connect to each other, exchange ideas, discuss and support challenges in business. Drinks and small bites are included.
Invitation for whom?
All ambitious women who want to grow (further) professionally and want to help others grow are welcome. Whether you have a long track record at a large corporate, whether you are a student, an entrepreneur since long or just starting. Young, young of mind, experienced or less experienced. Men are most welcome
Why join us?
*Meet successful women
*Experience the power of a story
*Connect with other inspiring women*Exchange ideas
U heeft geen groepen die aan uw zoekopdracht voldoen