6 maanden geleden · 1 min. leestijd · visibility ~10 ·
Female Entrepreneurs Need to Know That Growing a Business is Never About Changing Just One Thing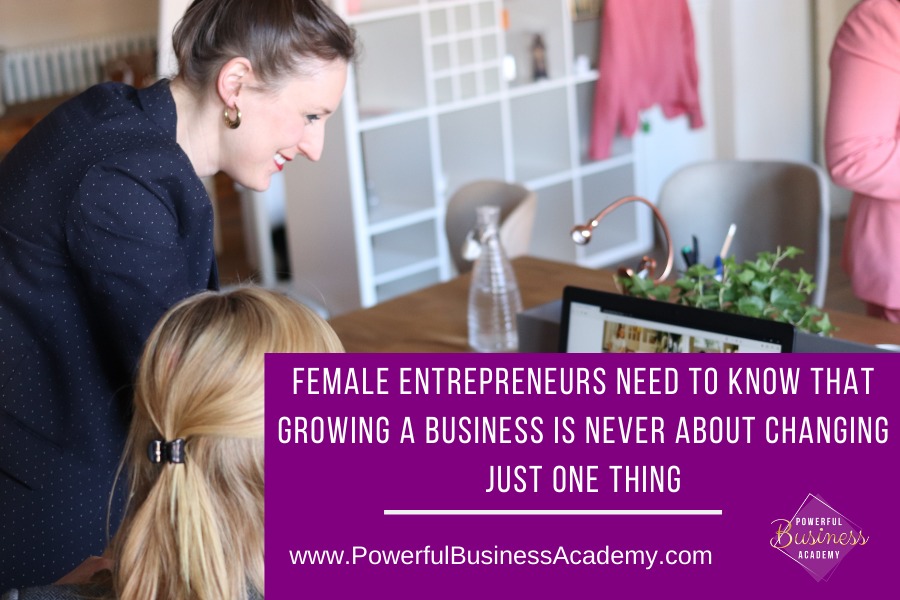 A business is like a human organ; everything is interconnected.
When you change one thing it most likely affects something else in your business too.
Creating a thriving business is hardly ever about changing just one thing. You'll need to tweak many things until you get it right.
I would know – as a business coach for female entrepreneurs I have spent years searching for any 'one right thing' for business success. Here's what I've learned.
There is Not One Right Answer
Some online coaches will make you believe you can make one change, flip one switch, and suddenly your business success will skyrocket. But this is not true. Even if you build an online program, your business cannot thrive without a list, and sales page, and automation, and much, much more.
Marketing gurus teach you to make sure you have a clear message and focus on one topic otherwise it is confusing for your clients. So that is why you see so many coaches train you on one topic and lead you to believe that everything will change for the better when you implement their product or service.
However, these marketing gurus will likely entice you to spend a lot of money and yet you still will not see the business success you had hoped for. Don't fall for these business scams.
No change will lead to overnight success. When you start networking your business does not change overnight. You need to be able to have conversations, maintain relationships, have a great product, speak to the right people within your network, and be able to sell.
So, it never is about changing just one thing!
So, What Do You Need to Change?
That has been my dilemma for years. However, as a business coach for female entrepreneurs, I've learned over the years how to build success in your business. I help female entrepreneurs grow their businesses and reach their goals.
If you want to continue growing your business, and you realize it will take more than one thing, as a business coach for entrepreneurs, I have a solution for you.
That is why I created a "Women's Blueprint To Business Success," as a business coach for female entrepreneurs. Check it out in the graphic below.
Read More About The Fact That Growing a Business is Never About Changing Just One Thing
U heeft geen groepen die aan uw zoekopdracht voldoen