Business Scaling Strategies For Female Entrepreneurs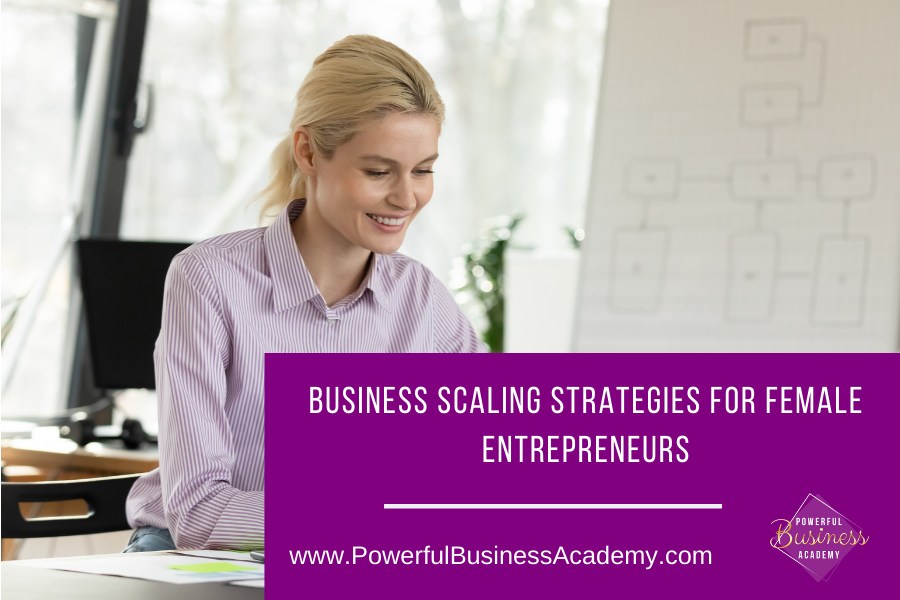 Scaling a business can be challenging for most female entrepreneurs. Although scaling a business is exciting and can get you to new heights of success, one wrong step and all your efforts go in vain.
Most businesswomen are not big fans of scaling their business. They don't know much about the ins and outs of the business, which leads them to misunderstand the concept of scaling a business for growth. They also want to remain in control of all the tasks regarding their business and fail to delegate. Or they simply think too small. They don't have any new strategies for scaling a small business and they are hesitant to learn as well. All of these habits contribute to why female entrepreneurs are unable to scale and grow.
But don't let this uncertainty scare you away from scaling. You should always be asking yourself, "How else can I scale my business?" With the rise in the popularity of technology, there are many new opportunities for female business owners to grow their businesses and go global. Nowadays, people interact and purchase constantly online, so learning a new business scaling strategy to reach a global level is not at all a bad idea.
Strategy # 1 To Help Female Entrepreneurs Scale Their Business
Always start with the basics. Before you think about any business scale-up strategy, most business coaches for female entrepreneurs suggest you work on your foundations first. You need to make sure that your business has the capacity and the capability to grow.
Look At All The Products Or Services And Evaluate
By putting forth good quality services and products and meeting the needs of your customers, you put your business in a better position for growth. So, before you turn to a scaling business strategy, take a look at all the services you are offering and evaluate:
Which services are doing well and which services are not?
Which ones are costing you a lot of money and which ones are not?
Also, which ones can you continue to sell and which ones can you not?
Which ones cost you little to sell and which ones don't?
After you are done answering these questions, you can make a list of all your best products that will help you move forward and scale up the business.
Who Needs To Do What And Who Is Responsible For That Within Your Business?
Find out who is responsible for which task. If you are just starting and are on your own, you can make a list of all the tasks you need to do to sell and deliver your products. Then evaluate whether all these tasks will help you in scaling up the business. Ask yourself, "Are they capable of growing with me and my business?" and take necessary measures.
Are There Standard Operating Procedures?
You cannot scale your business effectively if you have not introduced SOP's in your business. SOP's are documented data of all the repeating tasks within your business. They make business management so much easier. Many business coaches for female entrepreneurs recommend creating SOP's. If you are unable to create them on your own, you can enlist the help of a business coach for female entrepreneurs for proper guidance.
Do You Need Extra Digitization And Automation?
If you are growing your business, you need to invest in automation. Assess all the systems you are using and evaluate if you can manage the growth of your business so that when a problem shows up, you can handle it.
HPKq8.png"nofollow ugc" target="_blank" href="https://powerfulbusinessacademy.com/business-scaling-strategies-for-female-entrepreneurs/">Read more about Business Scaling Strategies For Female Entrepreneurs
Misschien bent u geïnteresseerd in deze banen
Gevonden in: Talent NL - 6 dagen geleden

---

Leiden Bio Science Park

Leiden, Nederland

Offer · Uitdagend én afwisselend werk met serieuze impact. En volop kansen, want bij TNO heb je grotendeels zelf de regie over je carrière. Naast een bruto (fulltime) maandsalaris tussen € 3.000,- en € 4.000,- (afhankelijk van je kennis en ervaring), vakantiegeld (8%), een dertie ...

Gevonden in: Jooble NL - 4 dagen geleden

---

Vitam

Rosmalen, Nederland

Op zoek naar de kickstart van je career als business controller? Dan zijn wij misschien wel een match 👇 · 🥦Over Vitam · De ondernemende cateraar die genieten van goed en lekker eten centraal stelt en gelooft dat onze voeding een waardevolle bijdrage kan leveren aan het welzijn va ...

Gevonden in: Jooble NL - 6 uur geleden

---

Charles River Laboratories, Inc.

Den Bosch, Nederland

Al bijna 75 jaar werken de medewerkers van Charles River samen om te helpen bij het ontdekken, ontwikkelen en veilig maken van nieuwe geneesmiddelen. Wanneer u bij onze familie komt, heeft u een belangrijke impact op de gezondheid en het welzijn van mensen over de hele wereld. Of ...