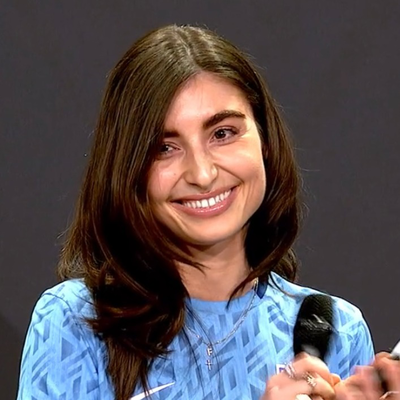 Over Sara Constance:
I am a creative and strategic marketeer with a digital expertise acquired throughout years of experience both as a freelancer and in diverse creative & corporate brands. After having worked in the fashion industry, e-commerce, publishing and advertising at Wieden+Kennedy, I currently find myself at Nike, the world's top sport & lifestyle brand.

Having lived, studied and worked in multiple international cultures (Romania, Denmark, Spain, Scotland and The Netherlands), I've developed not only valuable corporate, strategic and creative skills, but also interpersonal ones that allow me to be an empathetic, kind, passionate, but also a fair and assertive leader. I am proactive and detail oriented, always driven by finding creative solutions to difficult problems. I like to collaborate with brilliant creative minds and leverage their talent with my strategic approach & digital expertise, to bring the best work possible to life.
Ervaring
NIKE EMEA BRAND DEFINING MARKETING MANAGER
For the past year and a half, I've been working within the Brand Defining, Purpose & Athletes Marketing team at Nike, driving x-functional work with the highest visibility and responsibility for the future of the company. Moving form mid/low funnel marketing in my previous roles to upper funnel in this one, I have been able to drive full-funnel marketing campaigns involving cross functional teams from multiple territories and manage stakeholders across different seniority levels globally within the company.
I led Nike's 50th Anniversary marketing campaign, arguably the biggest project of 2022 for the brand. The project entailed an extensive x-functional collaboration across EMEA, our Key Cities & Global functions, as well as an integrated Media, Membership & Creative approach, which was a first for the brand. Rallying all marketing teams behind one single objective ensured deep consumer engagement and impact at multiple touchpoints, alongside a unified learning agenda and a set of results that served the brand full funnel.
I have been leading the Women's World Cupm 2023 campaign working closely with Senior Leadership and driving another cross functional team with various objectives, all laddering up to creating brand impact as one team. This project unlocked new opportunities for me in working with our Sports Marketing team, federations, atheltes and external partners like Spotify or GRM Daily.
The Paris Olympics 2024 campaign is my next project within the company.
EMEA SOCIAL MEDIA LEAD NIKE EMEA
Reporting directly to a Sr. Director, I helped establish the foundation of a new function at Nike EMEA, through partnerships with Nike's Global Social Team, Nike EMEA's Integrated Media team and various Brand & Digital Marketing teams. We launched multiple social media campaigns across paid & organic media, upgraded our programmatic paid media offence through automated creative technology that boosted our business (from a commerce and membership standpoint), integrated Live training programming within Nike's Training App throughout the early months of the Covid pandemic, created an AR Lidar Snapchat experience and set up social media processes for a paid & organic cross-functional collaboration at a Geo-Global-Key City level. All while inspiring social media creative excellence across creative and marketing teams at Nike EMEA.
PR + SOCIAL STRATEGY WIEDEN + KENNEDY
In this hybrid role I consulted on various client briefs & supported with social campaigns on brands like Corona, Milka, Nike or Instagram.
I helped in PR with campaign press releases, with building physical cultural events and connecting with creative & cultural to enhance both the agency's internal culture through DE&I or mental health awareness but also its external image as a trailblazer in the advertising industry
I also helped build Wieden+Kennedy's Amsterdam social presence as a brand, through bespoke Instagram campaigns that focused on creativity, culture, diversity and community, raising the agency's Instagram following from 2k to 20k organically only. The role involved a lot of strategic thinking, concepting alongside Art Directors and Creative Directors, but also personal design executions via Adobe Creative Suite.
Onderwijs
MIXED BACHELOR'S DEGREE (4 YEARS)
2014 - 2016 FASHION MANAGEMENT ; Robert Gordon University | Aberdeen, Scotland
2012-2014 BRANDING & MARKETING ; TEKO | Herning, Denmark
Professionals die concurreren met Sara
Professionals uit dezelfde Marketing / Reclame / Public relations-sector als Sara Constance
Professionals uit verschillende sectoren in de buurt van Amsterdam, Amsterdam
Andere gebruikers die Sara
Banen in de buurt van Amsterdam, Amsterdam
---

Koninklijke BAM Groep

Bunnik, Nederland

Onbepaalde tijd

Building a sustainable tomorrow · Wil jij de drijvende kracht zijn achter de duurzame strategische groei van BAM Nederland? Heb jij een scherpe analytische geest met een financiële achtergrond? Grijp ...

---

BAM International

Bunnik, Nederland

Jouw missie · Als Strategy Implementation Lead ben jij de drijvende kracht achter de optimalisatie van ons bedrijfsmodel, het ontwikkelen van inzichten op nieuwe inkomsten- en margestromen, en het ve ...

---

GroupM

Amsterdam, Nederland

€50.000 - €70.000 per jaar

Description · Position at Wavemaker Note: You need to speak (near native) Dutch for this position. · Only Dutch residents can be taken into consideration for this role. · WAVEMAKER is hét mediabur ...