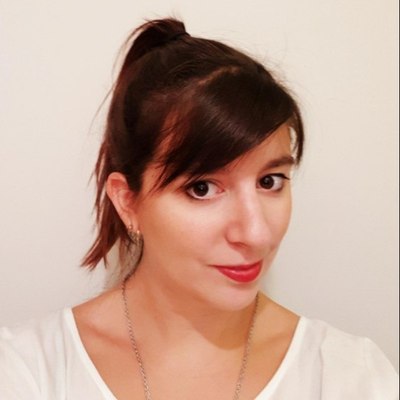 Over Ariadna De Lorenzo:
My name is Ariadna and I would be thrilled at the opportunity to bring my unique talents and style to the company.
Being a Graphic and Industrial Designer, I can understand the importance of creativity in any design situation.
During my previous roles as a freelance designer for ICHOS (The Netherlands) and various StartUps as well as my experience in TotalSports (Argentina), I improved and adapted in the use and combinations of various design tools to optimize timings and get the best possible result in each scenario.
In my work for ICHOS I was able to produce larger amounts of options for their business stationery in less amount of time, meeting the requirements of the company. As for my work in TotalSports, one of my biggest accomplishments was producing a template that could be utilized to arrange and edit all types of products and sizing tables, saving up to 20% of the time used to edit the product's photographs. 
My knowledge in User Experience also allowed me to collaborate in the design and development of the company's web page. Contributing to the design of the landing as well as adding the possibility of making multiple relationships between types of products fomenting the sales in combination of products. 
With my advanced knowledge in 2D design programs such as Adobe Illustrator, Photoshop, Indesign and XD, as well as 3D design (solidworks and sketchup) I consider myself a well rounded designer capable of adapting to any type of innovative and creative situations.
As well as software knowledge, my soft skills have allowed me to work in many interdisciplinary jobs with people in different areas and industries, including marketing, psychologist, engineers, accountants, salesman, etc. I merit this to my many years assisting, giving lessons and classes at university as well as private lessons to reinforce specific knowledge.
Thank you for your consideration of me as a candidate for the position of Graphic Designer for KEPLAR AGENCY
I look forward to hearing more about the position and the company.
Ervaring
In the year 2020 i colaborated as a Graphic Designer for the Foundation: Bioenergia Andina in Bariloche, Argentina.
During the year 2021 and 2022 i was the leader Graphic Designer and UX/UI for Total Sport Bariloche (E-Commerce)
Since June 2022 i have been working as an Independent Graphic Designer (brand identity) in the Netherlands (main client ICHOS)
Onderwijs
2015·2019  Bachelor´s Degree in Industrial Design · National University of Córdoba
2011·2015 Bachelor´s degree in Graphic Design (3 years)· La Metro, escuela de comunicación 
In the year 2020 i extended my horizons with a Ux/Ixd course in UTN.BA (Buenos Aires, Argentina)
Professionals die concurreren met Ariadna
Professionals uit dezelfde Marketing / Reclame / Public relations-sector als Ariadna De Lorenzo
Professionals uit verschillende sectoren in de buurt van Alkmaar, Alkmaar
Banen in de buurt van Alkmaar, Alkmaar
---

MT/Sprout

Amsterdam, Nederland

Programma's als Photoshop en Indesign kennen voor jou geen geheimen.Ervaring met WordPress.Nieuwe designtrends volg je op de voet.Creëren en ontwerpen van visuele content voor onze online platforms zo ...

---

Yune

Amsterdam, Nederland

Motion Graphic Designer · Deel via: · Bij Yune zijn we op zoek naar een stagiair motion graphic design. Ben jij een creatieve vormgever en ben je op zoek naar een uitdagende stageplek? Dan heb je die ...

---

NEW MARKET

Amsterdam, Nederland

Graphic Design & Social Media Intern · *Mastering Dutch language both word and written is necessary* · New Market Sales & Communications is hiring Wij zijn per direct op zoek naar een Graphic Design e ...